"To whom it may concern: This is a letter of recommendation for our realtor Mrs. Sima Dalvandi, from two very grateful and satisfied homeowners. Sima assisted us in the process of finding and purchasing a home between June 2003 and February 2004 in Houston, TX. During that time, we were impressed by:

The extensive research Sima carried out of the listings meeting our wishes and requirements.
The way she managed to accommodate our busy schedule to accompany us on dozens of visits to prospective homes.
Her deep knowledge of the market and keen sense of value.
Her sharp negotiating skills and eye for detail when the deal was drawing to a close.
The result is that we purchased a house entirely to our satisfaction, well below the asking price. What could have been a stressful process was not only greatly facilitated, but made highly enjoyable by Sima's upbeat approach, culminating in the surprise bottle of champagne waiting for us in the refrigerator to inaugurate our new home. Sima, thank you very much! " - Peter and Sarita Mullin

"Dear Sima, Thank you so very much for taking the time to show us all that we saw. If I could, I would make you a saint with all the patience you had for us. Thanks again, The Daniels Family" - January 2002

"Considering that I have never purchased anything more critical than a toaster without the watchful eye of my husband, I was more than concerned when suddenly I had to travel back to America from a foreign post in order to buy a house for investment purposes. My home owning sister steered me to Sima at Keller Williams and although I probably COULD have bought a house with any other agent, it would never have been so stress free. Not only did Sima immediately grasp the problem, buying a house with my husband's money which we might or might not ever live in, in a town I was not that familiar with, but she actually made it fun. Sima did not waste my time showing me things I could not afford, or would not be a good investment, and zeroed in immediately on the type of house which would be easy to keep rented, eventually make money on the resale market, or, if the need should arise, be a sound personal home in the future. " - Marla Kunfermann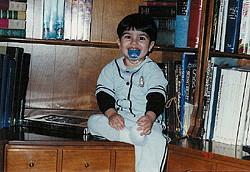 "Sima, We have been in this house for the last five months. We have not had any problem with the house. The house is beautiful. Watching our 2 year old son running in the front and back yard has given us a different taste of life.we enjoy the community and neighborhood Your support and dedication in every step of our first home purchase was beyond expectation. Wishing you the best of success in your career. " - Oufi Family



Sima Dalvandi, RealtorŪ
Cell Phone: 832-630-7605
Office: 281-265-0000
Direct Line: 281-340-4106
sima@simadalvandi.com